Expanded PTFE Sheet
We are leading Manufacturing and supplying of a wide range of PTFE Sheet ( moulded and Skived ) as per ASTM D3294 Standard, which are used for many application. We can also provide custom made in these PTFE Rods in different shapes and sizes.
VESCOAT Expanded PTFE Sheet consists of 100% Virgin PTFE. The manufacturing process produces a multidirectional fibrous texture which gives the material its special properties. This creates a soft and pliable, yet very tough gasket that has excellent resistance of pressing, creep relaxation and cold flow and it is complies with FDA – Food Grade.
Size and Technical Detail :
PTFE Moulded Sheet
PTFE Skived Sheet
Expanded PTFE Sheet
Thickness
1.5 mm to 100 mm
0.1 mm To 3.5 mm
10 To 200 MM (Std.)
Size

(Width mm)

300, 400, 450, 500, 600, 900, 1000, 1200
300, 450, 600, 1000,

1200, 1500 mm

300 MM (Std.)
Material
Virgin PTFE
Virgin PTFE
Virgin PTFE
PTFE Resins
D1457 / D4894
D1457 / D4894
D1457 / D4894
ASTM Standard
D3294
D3308
F754
Temperature
200°C to +260°C
200°C to +260°C
200°C to +260°C
Density
2.1 – 2.2 g/cm³
2.1 – 2.2 g/cm³
0.80 – 0.95 g/cm³
Specific Length and Diameter / Circle available as per customer's requirement.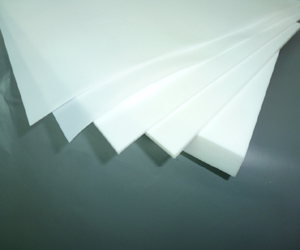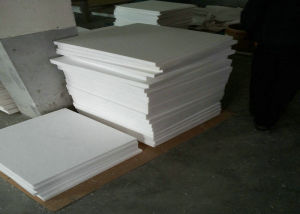 Applications:
Flange Gasket and COC Gasket for Large Vessels.
Large flange dimensions
Steam vessel flanges
Manhole covers, Heat exchangers,
Hydraulic and pneumatic systems